The New York Botanical Garden is one of my absolute favorite venues to photograph weddings.
As a nature lover,  it is a dream to photograph a wedding at NYBG,  as there are endless backdrops to work with that look beautiful in any season.
The New York Botanical Gardens is now a National Historic Landmark containing over one million plants as well as the Enid A. Haupt Conservatory, a Victorian-style Greenhouse.
 Caitlin wore a Pronovias wedding gown and cape.
I had never photographed a bride wearing a wedding cape before and I hope this time will not be my last.
I was smitten with it!
Her wedding dress ensemble with the cape was stunning, unique and a lot of fun to photograph – fitting her and her personality perfectly.
Sharing some of my favorites from their special day.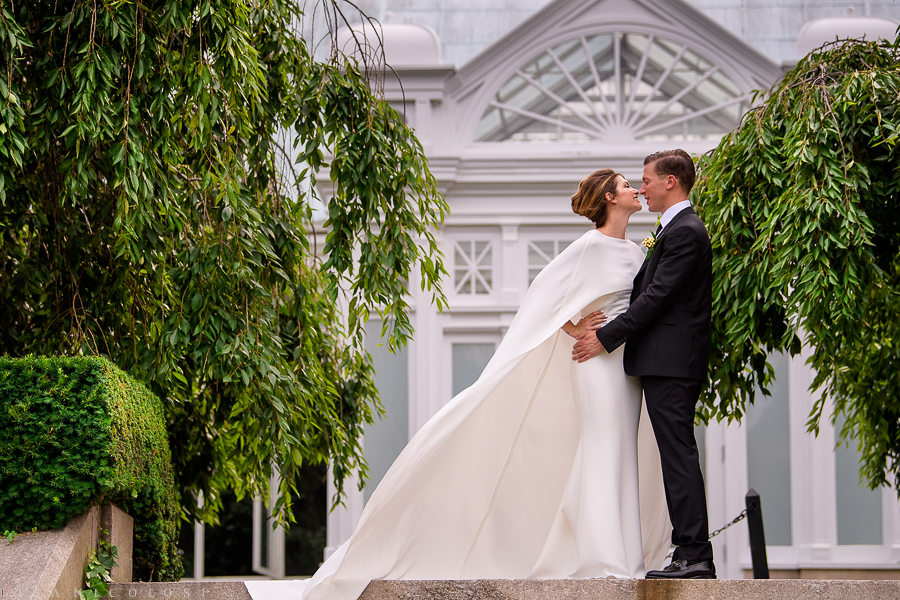 Caitlin and her adorable dog Chase, not sure who is more obsessed with who.
As an animal lover and pet owner, I totally understand this.
Chase was either sitting on Cait's lap, following her around or staring at her with goo goo eyes from a distance the whole morning.
Both Moms, along with Caitlin's Dad and bridesmaid worked really hard to steam/iron out the wrinkles of her wedding dress and cape.
Finally on our way to The New York Botanical Gardens!
I love Robert's jaw dropping expression upon seeing his beautiful bride.
Caitlin and Robert wanted their family and bridal party present for their first look.
I asked if they would consider not using their Cell phones. I am so glad that everyone agreed.
Had everyone used their cell phones I would not have been able to capture their reactions being present in the moment.
I love their emotional expressions in the background, much better than staring at an electronic device.
Caitlin wore her Pronovias wedding dress and cape so gorgeously!
Thank you so much Caitlin & Robert for trusting me to photograph your fantastic wedding.
I hope you visit the New York Botanical Gardens on your Anniversaries in the years to come and may these images warp you back to your wedding day story as it unfolded.
Vendor List:
Wedding Venue New York Botanical Garden 
Wedding Dress & Cape Pronovias
Makeup Artist: Ashley Spedale
Hair Stylist: Bella Luna Salon
Top Class Limo & Trolley
Hotel – Hyatt Place Yonkers
Videographer AJ Ingolia Films 
Beautiful Flowers were a DIY
Entertainment – Planet DJ's